When it comes to mastering your small business website, rule number one is never to adopt a 'build it and they will come' web design attitude.
Your site will need regular check-ups and analysis to ensure that you are getting the traffic and sales you desire, while also determining ways to improve these numbers on a regular basis.
Luckily, there are some simple steps you can take to improve the efficiency of your platform quickly, easily and cheaply. Following them religiously will allow you to improve your search rankings, conversions and user experience across the board.
Here are some of those measures that you can employ today, so that you will begin to see results tomorrow.
Set up Google Analytics to monitor all of your website functions
For real-time data on how your website is performing, you can't go past Google Analytics.
Of all of the software and apps available through the Google suite, this is the one that is going to help you the most when it comes to optimising your website.
If you haven't already set this up, the time is now. There is a free option so you can get a taste before you commit entirely, which is handy for small businesses with tight cash flow.
Google Analytics provides you with the tools to monitor data and gain a greater understanding of your customers and the performance of your website.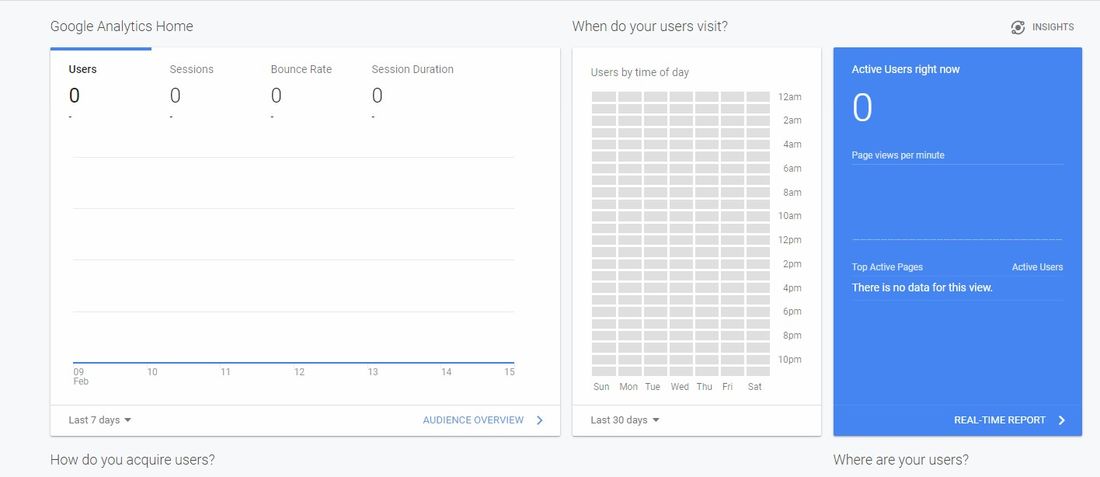 What you may see when you open Google Analytics.
It is highly customisable so you can drill down on the data that matters to you and put together in a dashboard that delivers details on all performance elements, while also enabling you to create thorough reports as well.
Additionally, the platform connects with Google AdWords and social media, so you can track how well your paid advertisements are running and how many people have been funnelled to your site as a result.
Beyond simple click-throughs, Google Analytics can help you grow website traffic, improve your search ranking, finetune your advertising and build your business in all areas. It's essential for monitoring the health of your website, no matter what your goals are.
Set up Search Console to support your SEO efforts
Another valuable set of SEO tools from Google is the Search Console, which is designed purely to help you improve your website's performance in Google's search results pages (SERPs).
Want to know how vital this is? To put it into a number, most people will only click on the first five listings in a list search of search results that are returned to them, so checking all boxes is paramount.
On top of that, 95 percent will only click on listings on the first page, meaning if you are not on the frontline of searches, you are fighting for just 5 percent of the potential audience.
Search Console gives you insights into the most important details around your website's performance.
Search Console helps you optimise the content on your site by determining which queries are bringing users to your website, as well as better understanding what's driving traffic.
It also optimises your site with sitemap submissions and individual URLs indexing, so the search giant is kept well across everything you've got going on.
The platform will even deliver alerts and offer fixes when things are not functioning at an optimum level, or if you're experiencing any threats. Zero downtime is important, so this is a big must-have so that you can constantly make improvements on the fly.
Ensure SSL is present to make your website more secure
One simple letter can make all of the difference when it comes to your small business website.
You may have noticed that some websites begin with HTTP while others appear with HTTPS in the URL bar. That 'S' stands for security and a Secure Sockets Layer (SSL) certificate is how you get that letter in your URL.
Recent data shows that there are 90,000 attacks globally on WordPress sites alone every single minute. Over 500,000 Australian small businesses were hit by cybercrime in 2017 and Australia now has mandatory reporting of data breaches, which can hurt a business's reputation as well.
These attacks cost small business almost $2 million each and resulted in over 24 hours of downtime on average. But beyond the stats, they highlight the need for cybersecurity to protect your business and the data of your customers.
Not only is an SSL certificate vital for your own security, but it will also help your audience trust your site and feel safe that their personal details (like payment details) are in safe hands.
It's about time to dispel a myth though: SSL will not slow down your website.
Once upon a time, when we shovelled internet data down a copper line using a dial-up connection, there may have been issues. But modern systems and connections are designed to favour HTTPS sites now, so you won't see any performance issues pop up in your quest for security.
On top of SSL, ensure that your anti-virus and cyber protection software are up to date and you install all security patches and bug fixes as soon as they become available.
Ensure your website is mobile-friendly
We cannot stress enough how important this is. If your site is not designed to accommodate mobile devices, you are throwing away enormous opportunities. Here are the stats you need to know:
Between 2016-17 the percentage of internet users on mobile devices grew from 57 percent to 63 percent.
In that same time period, mobile bounce rates declined from 52 percent to 47 percent, indicating more people are taking the time to explore sites, not just the homepage.
On average, only 15 percent of desktop users will make a purchase each week. In contrast, 35 percent of mobile users will make a weekly purchase.
Almost 60 percent of Google searches are conducted on mobile devices, and Google does not like sites that are not mobile optimised when delivering results.
When it comes to social media advertising, around 95 percent of all Facebook users are on mobile devices. If you want them directed to your website, it has to be mobile optimised.
Finally, the user experience is key. A huge 61 percent of users note they will never return to a website if they have a bad experience with navigating or operating it.
These points prove how crucial it is that your website is mobile-friendly, with trends also indicating that more and more people will turn to browsing on mobile devices in the future.
Ensure you have claimed Google My Business
You may have noticed in your internet travels that some businesses have their details pop out at you when you search for services in their industry.
These mini-profiles are built using the platform called Google My Business, and they can improve your web conversion rates enormously.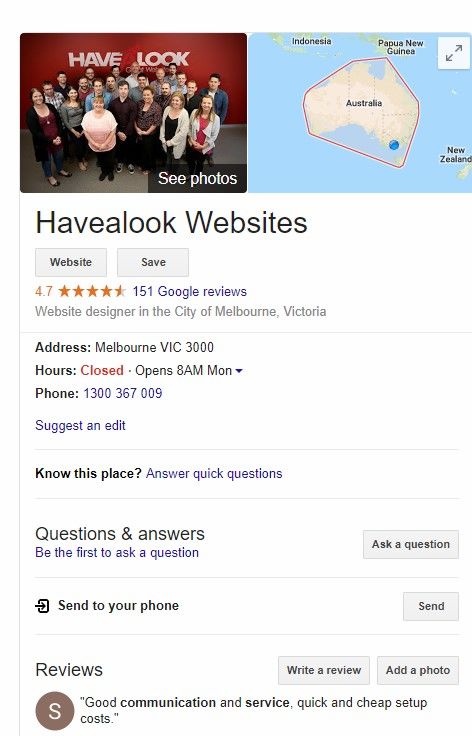 What our Google My Business snippet looks like.
These profiles include links to your phone number, directions for Google maps, the option to share through social media and a link to your website. There are also user reviews, an image of your business and recent social media posts that you have made.
You can also make custom posts that are included in this snippet, with calls to action like 'book now', 'sign up' or 'contact us'.
It provides a perfect little snapshot for users, enticing them to make an instant decision to engage with your business in some shape or form.
Check that all enquiry form responses are delivered to the right email address
Regularly test your contact and checkout forms on your website to make sure the enquiries are reaching your email inbox. This is critical for keeping on top of the sales process, and ensuring they're being completed effectively.
Conduct these tests on a regular basis for all functions like this, because the last thing you want is for customer enquiries to disappear into cyberspace, or for sales to fall through because of poor website functionality.
Check every link on your website regularly. If there are broken ones, slow loading times, missing or outdated content, or anything else that can impact the user experience, these need to be identified and rectified quickly.
By conducting all of these tests and signing up for the apps and analytics programs that matter, you can get a much greater read on your audience. In the end, you'll be on a far more accurate path to developing ways to grow your traffic, and encourage quality conversions tangibly.
Not sure where to start? Get in touch with the experts at Havealook to have the hard yards done for you.