We live in a world where instant gratification drives the majority of us. Fast food, reliable transport, instant payments – the modern consumer demands immediate responses and reactions. And that's technically what drives our economy too – be it offline or online.
This is also the case with Google rankings, with many people expecting immediate results when it comes to the placement of their business within search engine results pages (SERPs).
A smattering of SEO here, a quality piece of content there and there's suddenly an expectation that the page will end up on prime real estate online. But that's not the case.
In actual fact, the average time for websites to rank in Google searches – that is, if it ranks at all – is about three to six months.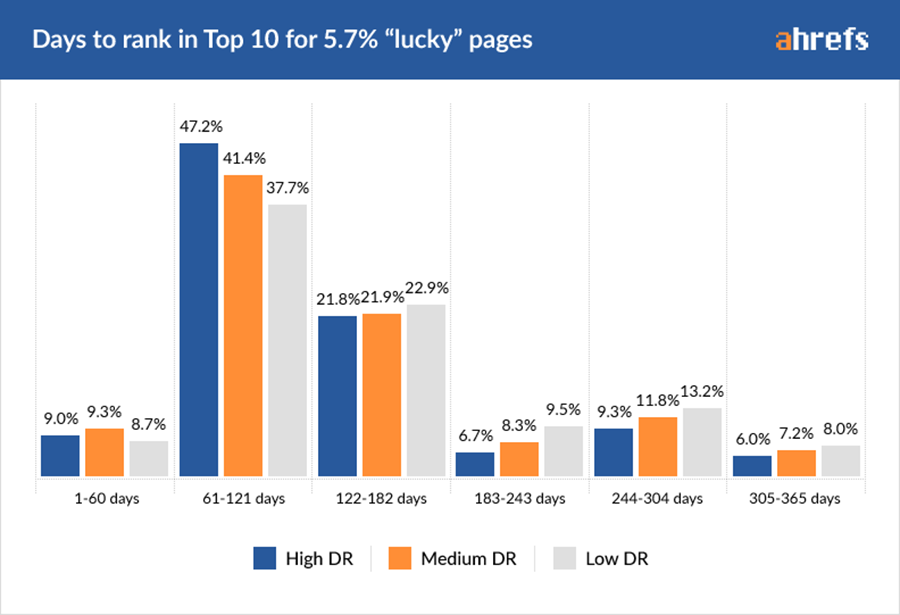 An insight into the number of days for various pages according to their DR (domain rating; a criteria attributed by Ahrefs. The higher the DR of a page, the more of an authority it is).
This is also highly dependent on your industry, how competitive it is, the popularity of the key words and subjects used. In the most competitive industries, it could take even longer to see a tangible result.
This may frustrate many small business owners who are desperate to get a leg up on their competition, but there are important reasons why this process is time consuming. And important reasons why this delay should not discourage you from focusing on your site's SEO content.
Rankings are a marathon, not a sprint
The primary reason that Google is not instantly ranking the 'best' businesses in each industry is because their algorithm no longer works that way. Once upon a time, the giant had a system called PageRank. It had 200 criteria and the ones that appeased them the best were ranked the highest.
Times are changing, though, and so is Google. The search engine is no longer just ranking businesses within their industry according to how well they meet algorithm requirements, it is tailoring results to the actual searches and users themselves.
Think about it: the average Jane or Joe isn't likely to type "plumber with the best SEO and website" into Google. They will search using other parameters, like location, reputation and availability.

Typing in 'plumbing' reveals these related phrases popularly searched by users in the Melbourne area.
More and more of these searches are being made using voice in the modern world as well, with smartphone assistants and home devices growing more and more popular. So, unsurprisingly, the Google PageRank system died in the great update of 2014.
In its place, we have a growing and evolving formula that prioritises businesses over their usefulness and relevance to the user. These algorithms (including the new Google RankBrain) update continuously and are ever-evolving to deliver the best possible results to those using the platform.
As this process is always evolving, it takes time to analyse the continued behaviour of individual sites and place them in the right rankings, correlated to the correct searches. While the wait might be frustrating, it is ultimately worth it.
But what about agencies claiming instant rankings?
Sadly, many of these banner ads, pop ups and social media advertisements promising instant Google ranking gratification are not telling you the whole story. Often, these are marketing gimmicks at best and outright lies at worst.
When hunting around for a provider, it pays to do your research and speak with their team. Ask plenty of questions and know what you're in for from the start. An agency like Havealook can ensure you're not left in the dark when it comes to SEO.
The most important thing to remember is that the road to high rankings does not have a silver bullet or a magic formula – it requires knowledge, hard work and patience. It's a long-term commitment and not a quick win.
What are the consequences of going too hard at Google ranking?
The previously mentioned SEO cowboys can land your business in a lot of hot water, as can attempts to craft your website with a DIY approach.
Some people think they can game the system by saturating their website with SEO keywords and content, usually with a whole bunch of words that delivers absolutely no value. Google's algorithms are well clued in to this practice, however, and are known to penalise sites that attempt to shortcut this process.
You can even be completely removed from all searches entirely, making your website almost redundant.
Why it's important to start your SEO journey now
Google, unfortunately, is a bit of an ageist and any site that is six months old or less is considered to be 'young'. Additionally, the algorithms in place prefer established websites with long-running SEO and a history of producing fresh content that is relevant and industry-specific.
That means new sites face an uphill battle in the short term to compete with sites that have been running for years. This battle starts to become unwinnable if a freshly designed website does not hit the ground running, though.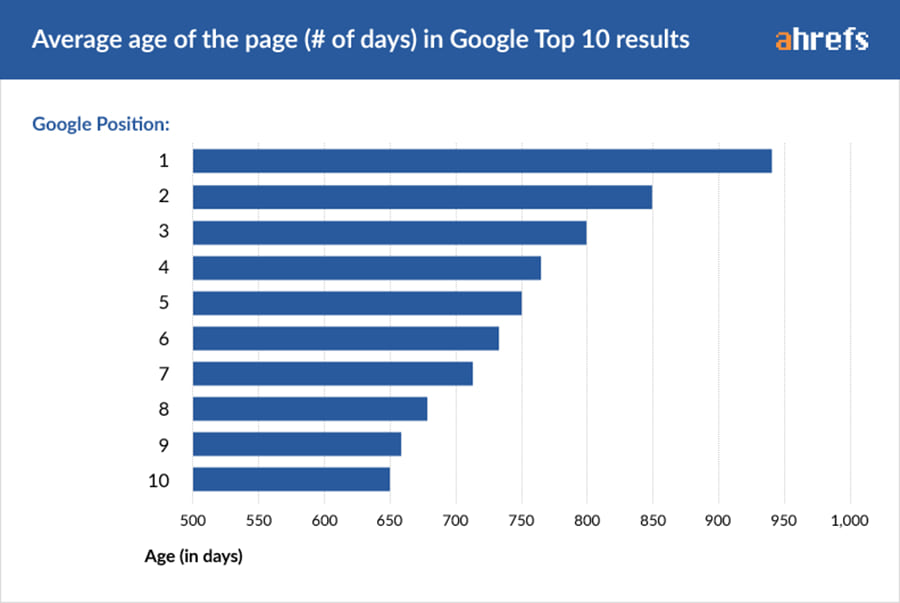 The average age of pages listed in top 10 results, according to Ahrefs.
Every month you wait, more websites are popping up and appeasing the Google algorithms, pushing you further down the queue.
Owning a URL does not count as a live website either. You could have owned the URL for a decade while you prepared to launch your business, but according to Google, your site is only as old as the day it goes live.
While it may take some time to see tangible results, it is vital to start your SEO journey as soon as your website goes live. Once you get past that six-month period, you will notice that these results will start to speed up at a rate of knots as well.
What are the key ingredients in successful Google ranking?
Now that we have accepted it is going to take time to climb the Google rankings, it is time to understand what we need to do to ensure we have success in the long run.
Google keeps its algorithm secrets very close to its chest, but there are known parameters that you can adhere to that will give the best possible chance of reaching that No.1 page in searches.
Keywords: For new websites, taking on the established sites using the major keywords (the ones most used in searches) can be a tough slog. In the early days, it is recommended to use less competitive keywords to help your website build trust with the Google search bots.
Search engine optimisation: Google has wonderful little digital creations called spider bots that will crawl all over your website looking for the right keywords. It will search your content, but also your titles, image text and headings as well. These crawlers don't like to see excessive keywords and they don't like to see plagiarism either, so ensure your site stays clear of both.
Quality content: Those spiders are always crawling all over your content and they get bored easily reading the same material. They want to see fresh material regularly posted on your page and they will be testing for relevance, timeliness and originality.
In-depth content: Consumers like snackable content in the modern world, stories between 200-400 words that they can easily gobble up along with their morning or afternoon tea. But Google wants to see the real meat and potatoes go into your content. The average top 10 page has articles that average around 2000 words as Google regards these to be more credible.
Timeliness of content: Google loves it when you tap into breaking news and events and produce content that relates to it. Of course, your office is not a newsroom and it is unreasonable to expect you to cover every single bit of industry news. This is why it is wise to have evergreen articles on your website as well that have keywords likely to pop up in breaking news.
External links: When you link other websites for reference in your articles, it adds credibility. When other websites link back to you, it adds even more credibility. Building symbiosis with other pages can benefit you both.
Mud sticks: Don't try your luck with SEO saturation or content that is just waffle, designed to generate a high word count. Not only will you be penalised for this, your site will forever remain flagged as having cheated the system before. This means Google is less likely to push you up the rankings.
The important of quality web design and maintenance
If it sounds like a lot of work to climb the Google rankings ladder, that's because it is. Many businesses will overcommit by saying they have the resources to build, populate and maintain a website to the standards that the search giant demands.
In most cases, it makes more economic sense to divert funds towards the experts in this field, to build your website, populate your content and produce ongoing articles to ensure you are progressively climbing up the rankings.
The professionals (like us) have all the right analytics tools as well, so they can monitor on the fly and produce reports showing the tangible gains your content is delivering.
It may take some time, but these results will eventually have you soaring above your competition. And it's always well worth the journey.
Get started with your very own SEO efforts now by contacting the Havealook team on 1300 367 009.