Easy website content updates on your phone, on the go
You have a fantastic idea and think "This is the perfect news story for my website!" but you're out and about, nowhere near your computer. Plus you're always busy running your business and it's hard to find time to update your website with new content.
Discover how Instablog helps you create new website content on the go, entirely from your phone.
You can post a picture, share a good news story, create an event, or make an announcement. Simply choose a photo and write some words, then post to your website and your Facebook page at the same time. You can even schedule the post to go out at a later time, and get on with your day.
Why your business needs new content
Adding new content to your website is great for customer engagement. Posting frequent, interesting content:
Makes your business look active and successful
Helps you stay in touch with your customers
Keeps customers up to date with your new products, services or events
Encourages customers to return to your website and buy from you again
But the real good news is that new content can drive more customers to your website.
You can share news and updates with your customers.
Customers love hearing about what's new. You can create a news post to share:
Something you've learned at a conference that your customers/readers will love
New products at a trade show or buying trip
Share a photo from behind-the-scenes or a photo shoot
Announcements, good news stories and company changes
Create a post about helpful tips, tricks and ideas on the fly
Interesting content brings people to your website more often, and encourages readers to spend more time on your website, which is great for your website's traffic and domain authority.
You can start a blog.
Blog content is great for SEO (Search Engine Optimisation) and search engine rankings. In your blog posts, you can target specific keywords and phrases that you want your business to be known for. And when you have plenty of high quality blog posts on your website, you can rank for a lot of topics in your customers' search engine results.
Instablog is very compatible with your web design as long as it is built by Havealook. It is a simply but very powerful blogging tool which can be easily added onto your website at a very low cost. Havealook SEO customers automatically get Instablog set up on their website at no cost, as part of their SEO campaign.
What is Instablog?
Instablog is a content creation tool you can use to update your website's news section and create blog posts from your mobile, tablet or desktop.
We've created Instablog exclusively for Havealook customers.
Once you've activated Instablog, you can log into your Havealook CMS (content management system) and use Instablog to upload photos and text right from your phone.
Which of Instablog's features will you enjoy most?
Upload photos and create content on your phone
Instablog is super easy to use. In fact, in just a few minutes you can snap a photo, write a short article, and post to your website and Facebook, all on your phone.
You can post content at the time you have a great idea, rather than trying to find time later. Got business news you simply have to share? Publish it right away and get your followers' attention. Frequent contact with your customers is a great way to stay front of mind.

Instablog also lets you format your new content. You can use your theme headings and bold text to create easy-to-read text. You can make your news visually interesting by uploading a banner image and adding photos in between chunks of text.
Post to your website and Facebook at the same time
Your customers probably aren't checking your website for updates all the time, so they need to be reminded to visit.
You can catch their attention by showing up in their Facebook feed. They click to read your new article and have a look around on your website at what's new. If they like what they see, BAM! Customer engagement leads to a sale.
You'll save so much time by using Instablog to post to your website and Facebook in one click. No double-handling!
When you post to Facebook and your news page or blog at the same time, you benefit from the SEO juice that new content offers. More frequent, high quality content on your website is great for your search engine ranking, and posting on Facebook makes sure your audience sees it.
Schedule posts for a later time or date
The time of day that you have time to write might not be the best time to post. In fact, you can schedule your Instablog post to go out on the day and time your customers are most likely to see it.
Your analytics software and Facebook engagement stats will show you when your customers are most active on your website and socials. Here are some general trends:
Lots of people check Facebook the moment they wake up: to capture them, post between 6.30am and 7.30am.
If you want to catch people who travel to work on public transport, posting between 5pm and 6pm on weekdays could be useful. But you might miss those who are driving during that time.
When talking about events coming up on the weekend, consider posting Thursday evening 7-8pm when people are making weekend plans.
You could post long articles on Sunday nights at 8pm when people are relaxing and reading on the couch.
Once you understand the timing that works for your business, you can schedule your new content to go out at the time your audience will see it.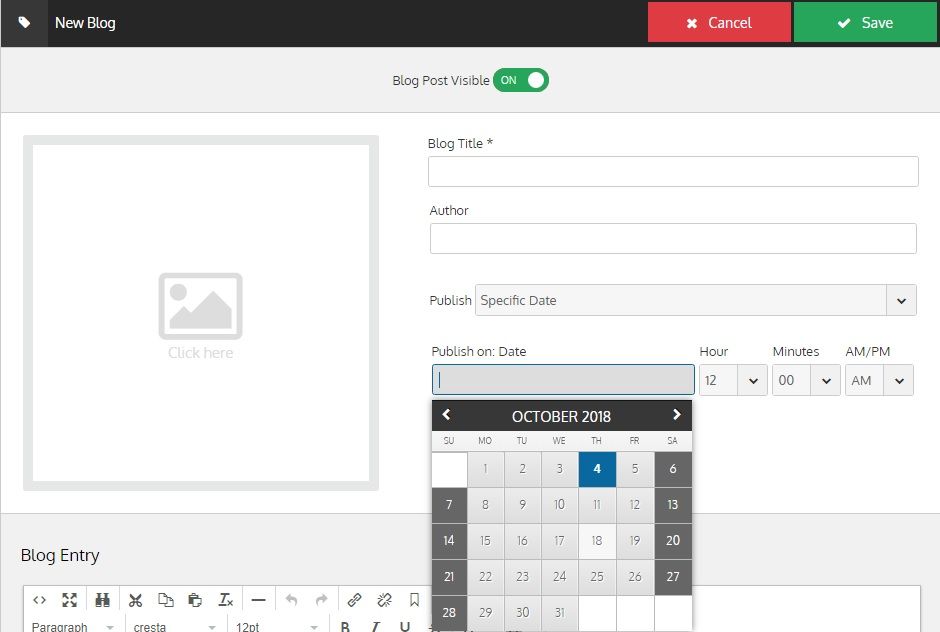 Add meta details for SEO
To help your website content get discovered by a new customer, add meta details from inside the Instablog app. Think of keywords or phrases that your customers might be searching for, and include the keywords in the page Title (blue text, up to 60-70 characters) and Meta description (up to 160 characters or 2 lines shown in black text), which appear in search rankings like this:
Meta details are a great way to give the reader a snippet of your content, to entice them to click and read more.
This article by SEO powerhouse MOZ has some great tips on getting started with SEO for your blog
Start your blog, or make your existing blog better
Blogging takes time and effort, but with Instablog you can cut that time and effort down to a minimum. Instablog makes it easy to post blogs and new content on the go, in micro-chunks of time you might have been scrolling on your phone anyway. Better make that time productive.
Instablog can be added to your existing Havealook website
Shoot an email to support@havealook.com.au to discuss the benefits of frequent new website content or to add Instablog to your website.