Key Points:
Customer has mentoined they do not have time to check our reports as they are too busy with the increased amount of work!
Increased SEO results without increasing marketing budget.
Organic (SEO) traffic shows weekly increases of 80%
SEO generates the most amount of website enquires at over 70%
Company background
Premier Picket Fencing are a Melbourne based company specialising in the building of picket fences, gates, arbours and awnings as well was woven wire fencing. With over 20 years experience they are one of Melbourne's leading fencing companies priding themselves in quality workmanship supported by a professional, fast and quality service.
The Challenge
Premier Picket Fencing approached Havealook SEO in mid-2018 to get their business to stand out from a crowded market in Google search. At the time they were advertising on websites which also promoted other fencing companies, which was leading to them losing thousands of dollars of business to their competitors.
Havealook SEO's Solution
Havealook's SEO team adopted a Melbourne wide strategy to give them access to the largest number of customers doing a Google search, without increasing their current marketing spend. With further analysis we also discovered that the content on their website was not optimised accordingly which was holding back their rankings, so we acted fast and made sure the website was optimised accordingly for the keywords they wanted to rank higher for.
Our Results
Before the Christmas and New Year period weekly traffic has been on the rise. We have seen an increase in SEO visits by 80% during this period.

We checked the last two months before December with the previous two months and have seen a healthy 86% increase of new SEO visitors.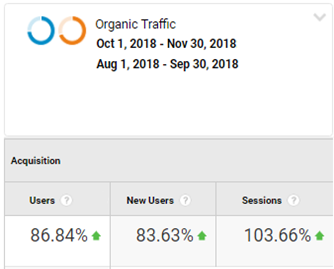 | | |
| --- | --- |
| Customers have been enquiring a lot more as the campaign goes on with nearly 80% of enquiries from the SEO campaign we have been doing for Premier Picket Fencing. The website also has an enquiry rate of 5.4%, which is 2x greater than the average rate and puts the website in the top 25% of high performing websites based on conversion rate. This means we are getting people to the right pages based on their search within Google. | |
After some great results for your website? Get in touch with an SEO expert today at Havealook.