There are digital rivers of gold waiting for businesses online. The total number of retail purchases made online was 5.6 percent in 2014, but that is expected to rise to 7.2 percent in 2019, and it will keep on climbing. This doesn't even consider the large number of businesses offering services rather than retail goods online. Is your business ready to move to an e-commerce store where goods and services can be purchased with just a few clicks?
Setting up an e-commerce store can unlock new sales opportunities for existing businesses or an exciting, modern way of selling for brand new start-ups. Here is your guide to creating an ecommerce website and the steps you will need to take before taking the plunge.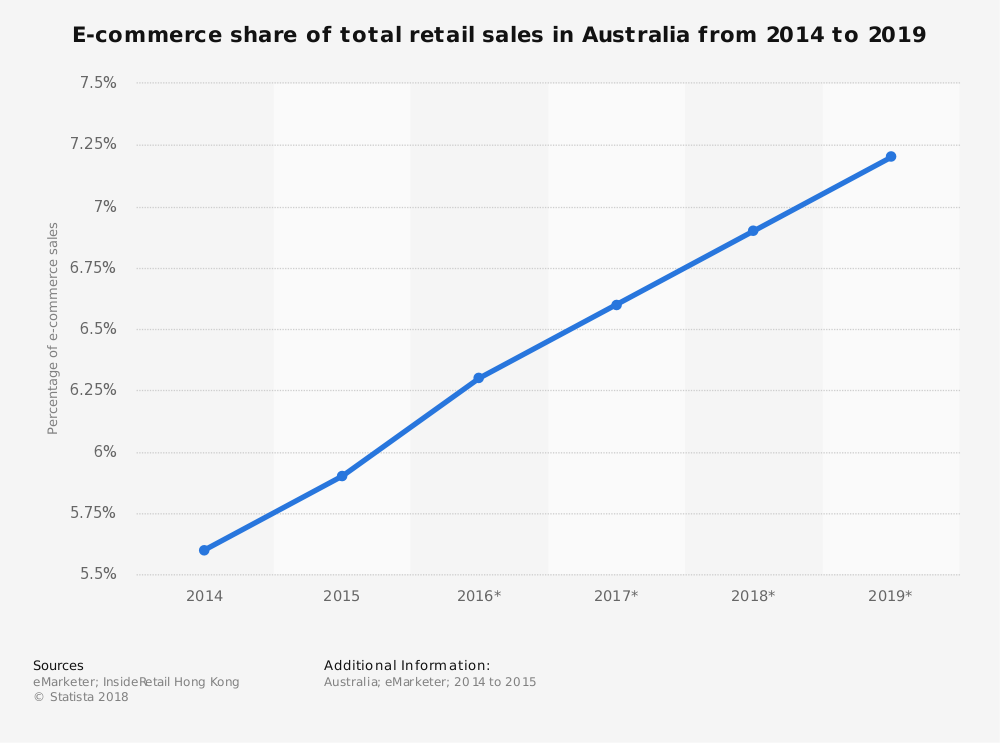 The booming growth of e-commerce in Australia over the last 5 years. Image source: Statista
Create your product or service
It may sound like common sense, but it is important never to put the cart before the horse. Ensure that you have your product or service well and truly determined before considering launching an e-commerce store. You should know exactly how you are going to meet demand when those sales begin to come in.
A small business can be over before it begins if you launch an e-commerce store too early. This can be the case when your business is not being able to deliver the product or service immediately, or your company is unsure about what service it is actually trying to provide. Instead, have a very clear idea about your goods and services and have your product on-hand ready to sell or your professionals ready to begin delivering services so that you are ready to go as soon as the site is launched.
Determine your pricing before you do anything else
This can be a challenging prospect, but it is imperative that you know your price point before going to market. This means plenty of research, checking out your competitors, working out how much people are willing to pay for similar products or services, and how low your prices can go before your business is no longer viable. You will need to take into consideration any overheads you may have, expenses, wages and all other costs then factor these elements into your price point. It is essential that your prices are locked in when your site is ready to go live.
Work out your shipping expenses and processes
Another important step to take before a single keystroke is made in creating your e-commerce store is working out your shipping expenses and processes if they are necessary. You need to walk the fine line between delivering a profit and staying competitive with your industry rivals. Shipping costs are one of the major factors that consumers will consider when making their choice of online retailer, so it is important to deliver the lowest possible price.
There are three main shipping options you can offer your customers:
Flat-rate shipping: Find out the average cost of delivering the products you sell. There may be small items, medium items and large items – you are going to want to work out the costs to provide each type of item to different parts of Australia. You will need to figure out the average of all these different shipping rates to be able to provide a single, flat-rate shipping cost for all items to your customers.
Free shipping: No, we are not asking you to be Santa Claus. You need to first work out your average shipping cost, just like with flat-rate shipping. With this method, however, you absorb these costs into your product prices. So, the shipping isn't a gift from you to your customers; it is just built into your prices.
Cost calculator: The most straightforward method, and one that appeals to a lot of customers, is a cost calculator tool that will figure out how much shipping will be for a particular item to a specific destination.
Choose your domain name and provider
Now that your warehouse is full, your shipping processes are organised, and you are ready to sell, it is time to start sourcing the best host for your e-commerce website. There are many options available with different hosting fees, different volumes of cloud storage (which equates to how many items you can sell on your website) and different features available. Consider and compare these factors carefully before you make your decision.
Each host will have a page that allows you to check out if your preferred domain name is available. A domain name will be something like www.mybusiness.com.au. If the domain name is already taken, you can get around this by changing your site to .com, .net or .net.au (amongst others), but remember people are more likely to trust and rely on a standard .com.au website.

What forms a domain name. Image source: FirstSiteGuide
Another thing to look for is scalable hosting. As your business grows, your website demands will too. Latency can be a challenge and that will turn customers away, so ensure you will have the ability to grow your business' website with your host in the future.
Build your e-commerce website – or enlist a professional
Congratulations! You have your domain name, your host and your product, and your e-commerce business is ready to roll. All you need now is your website. There are two obvious paths you can take here and one you should never take. Starting with the latter, never let your friend's uncle's neighbour's kid who knows a little bit about computers design your website. This is a highly-important strategic process and websites built by amateurs will make your business look like amateurs run it. You need a professional finish to make your business look legitimate, professional and better than your opposition.
It is always a good idea to enlist the help of dedicated web designers for this process as there is a range of features that they can include on your e-commerce website including:
Mobile compatibility: This is essential as the vast majority of your customers will be using a mobile phone or tablet, and a site not properly configured will be quickly ignored.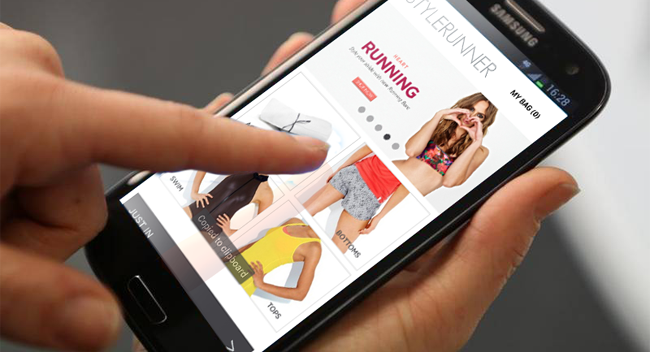 How easy is it for your customers to use their smartphone to shop on your site? Image source: Browntape
Easy purchasing options: Ideally, you want your customers only to have to click twice to purchase an item from your website.
Reporting tools: You can eliminate a lot of your paperwork through automated reporting tools, which analyse your data and help you grow your business
Chatbots: These are becoming more and more frequently used, and the artificial intelligence (AI) behind the technology is advancing rapidly. It adds humanity to your website and gives users assistance 24/7.
Customer relationship management (CRM) software: This automatically tracks and stores every interaction your customers have with your website. It delivers a powerful database and gives you insights into how and what your customers are purchasing, allowing you to improve your site where needed.
Set up effective product pages
The product pages are your online catalogue and are the most important pages on your website. They should include concise but powerful descriptions of your product and a well-placed call to action, such as 'add to cart' or 'buy now'. The images should be clear, high resolution and in no way misleading.
Set up a merchant account
You can set up a specialised merchant account with your bank that will link directly with your payment gateway on your e-commerce site. There is a long list of third-party gateway payment providers, so ensure that you have checked that your bank is compatible with the gateway that you have chosen. There are other options outside of the banks as well. Platforms, such as PayPal, are also able to accept payments from e-commerce sites as well.
Add an SSL certificate for security
Finally, it is time to secure your website before you launch it. This is essential as people want to know their payment details are secure when making online purchases. A Secure Socket Layer (SSL) certificate will add that little padlock next to your URL and will also change the prefix from HTTP to HTTPS to alert users that your site is secure. Traditionally, this has been used to protect online payments using credit and debit cards, but in the modern world, it has another, equally important function.
Cybercrime is increasing at an exponential rate, and an SSL certificate will help keep your site secure, while also protecting the sensitive information of your customers. Mandatory data breach notifications have begun in Australia, which means your business will be obligated to tell any customers (and the government) if any personal information has been jeopardised. This can lead to a lack of trust, which can quickly sink a business. As such, the SSL is an incredibly vital final step before your e-commerce site goes live.
Monitor trends and adapt accordingly
Like most things on the internet, what works today might not be as successful tomorrow. Your e-commerce website should not be a set-and-forget exercise; it should be a continually evolving process. Monitor industry trends, new technologies, new tools and apps, and consumer behaviour to help keep your e-commerce website ahead of the curve and at the cutting edge of change. That way you can stay a step ahead of your competitors and ensure a long and successful future with your e-commerce business.