Flick back to the '90s and you'll see a bunch of Comic Sans-blanketed websites that look a little like simplified, online brochures. From the flashing text to the interesting (to say the least) navigation systems, websites were not the ecosystems that they are today. Their only function was to publish content – be it images or text – and to just get the job done. But with the digital era in full swing, today's demands are far more heavy. Platforms need to be fully living, breathing landscapes that house the capabilities of interactive and responsive user experiences. They're not just there to host content anymore.
While we were flaunting our double denim back then, our need as brick-and-mortar businesses to become online ones was barely existent.We didn't require holistic ways to publish content and update our online presence, and social media hadn't even been a thought in the mind of Zuckerberg. These days, however, websites are required to offer on-demand publishing services that can be updated anywhere, anytime. And that requires significant investment and specific skill sets to do so. Enter content management systems (CMS).
What is a CMS?
To suit the evolving nature of websites, a CMS allows businesses to fully take advantage of their page. From controlling content through to coding up niche pages and features – the flexibility that a CMS offers is a huge benefit for anyone looking to get serious about their site.
And you've probably heard of some well-known content management systems already widely used by brands of all industries – the likes of WordPress, Drupal and Joomla! might ring a bell. Offering web developers, programmers and techies plenty of options, there's a good reason why these iconic platforms have become the crowd favourites.
However, in order to really utilise them, having the skill sets within coding and programming is a must, as they do require significant amounts of tailoring to personalise your content.
Currently, 51% of websites are built on WordPress, while a further 38% are built on custom-made technologies. So if techies are utilising off-the-shelf platforms like WordPress, what's everyone else using?
Introducing 'The World's Easiest Self Update Console'
We've given it the name because its earned it. The World's Easiest Self Update Console was designed by the Havealook team to fill a gap we pinpointed in the market. While business owners are already tasked with a plethora of things to get done in a day, having a website that's kept up-to-date takes unnecessary stress out of the equation.
The main focus of our CMS is that it allows you to update your own site, without having any programming or coding skills under your belt. There's no need to be a hardcore HTML guru
– we make the experience of refreshing your website what it should be: easy.
So, what does it do?
Everything. Okay well, everything you need it to do when you are looking to update your content. Page text, page titles, meta data, images or shopping cart products it's all there for you to do without coding knowledge. No matter how small the amendments are that you need to make, you're given full reigns to do it...without the tech-heavy process to get it done. You can throw HTML and all those other fancy terms out the window.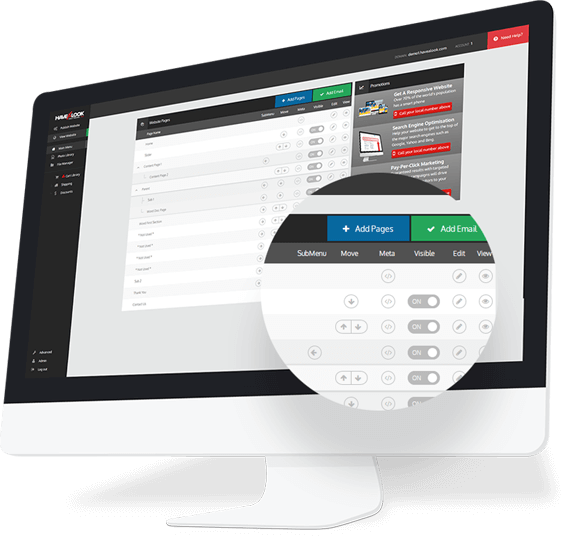 But beyond that, there's plenty of other benefits that allow you to get the most out of your website…
Enjoy an easy-to-use interface
There's no point hopping on board a customised CMS if you can't navigate the thing. Havealook's CMS has been carefully mapped out to offer a sleek user experience and a simplified interface. Pinpoint pages, images and cart items quickly, enabling you to get in, make the changes and get back to more important tasks (like running your business).
For e-commerce businesses, this is a win-win, allowing you to refresh new products and items in your pipeline, without waiting on a tech team to do it. The result? Your exciting new services and goods hit the online spotlight as you're rolling them out, not in a number of weeks' time.
Tweak content instantly
Instead of having to put in a ticket to your techie to update a couple of small bits of text on one of your pages, our CMS gives you the opportunity to login and make the amendments yourself. Beyond that, you can edit metadata and page names quickly and within a few clicks. Got a special offer you need to put on display? Done. Have you recently acquired an award, qualification or certification you want to flaunt? Done. Push your freshest details live when they matter the most.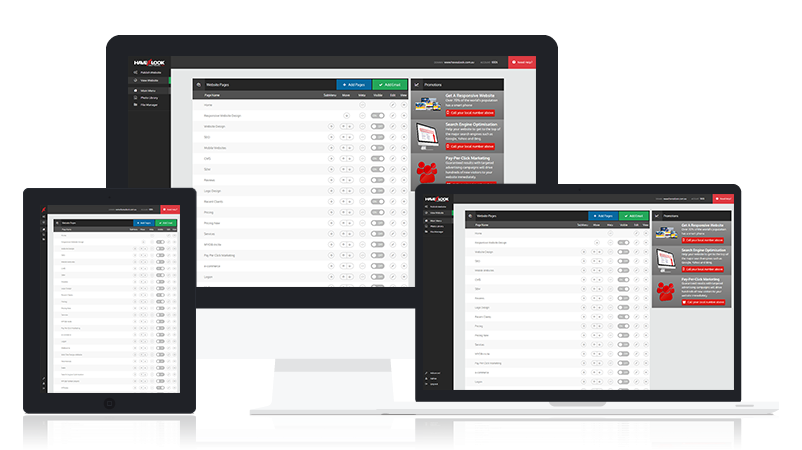 Tied into this is the ability to upload images, logos and PDF files directly into the CMS, so that you can provide your visitors with critical resources and information efficiently. Instead of having to place coding into the backend to make these visible, the simple DIY approach of the platform does all the hard work for you. Brilliant.
Experience security
One of the biggest grievances of using another CMS platform (most notably, the well-known ones) is that you are required to keep up with version releases and security updates. As websites are more vulnerable than ever to cybercriminals and hacking activity, keeping your platform under lock and key is a huge responsibility, and it's not always so straight-forward.
The Havealook CMS is equipped with security features, version control and underlying coding to keep websites like yours in safe hands. Any necessary programming and coding is undertaken by our team, meaning you can spend less time stressing over whether your page is secure enough for your business and its customers, and more on your actual operations.
Melbourne-based support
Investing in software and CMS platforms that aren't equipped with enough support and resources is money down the drain. When it gets to crunch time, knowing who you can contact if you're experiencing issues with your website is a big deal. Backed by our Melbourne-based support team, the World's Easiest Self Update Console allows you to get help when you need it most during office hours. No need to put in a ticket and wait a lifetime. No need to get on the phone to an overseas call centre and take your place in the queue.
Getting started with the Havealook CMS
If you're looking to migrate your website or create a whole new platform, the Havealook team is well-versed in kick-starting flawless projects. Enjoy an offering of trusted experts who can guide you through the process of using our personalised CMS, and provide you with further peace of mind in knowing they're there when you need them next.
Bid farewell to your HTML woes and fire up your website by calling 1300 367 009.