Key Points
Reduced SEO monthly cost by 40%
Increased website traffic by over 104%
SEO generates more enquiries than paid ads.
Removed penalty inducing spam content
Company background
Just Jeeps are a spare parts and salvage car yard based in Sunshine, Melbourne. As the name suggests, they specialise in Jeep spares as well as spares and salvage parts for other vehicles such as Dodge and Chrysler. The company aims to make sure they are providing the right parts for their customers specific needs the first time, every time.
The Problem
Just Jeeps got in touch with the SEO team at Havealook seeing if we were able to assist them with their Google rankings and traffic from SEO. They were currently working with another SEO company and were quite underwhelmed by results, particularly given the inflated price they were paying for the service. At the time, the current SEO team they were engaged with only created many pages of hidden and spammy content for keywords that were not realistic which resulted in them not receiving any enquires or traffic through the website.
The Solution
We looked at all the hidden, spammed pages in Google analytics and discovered they had:
low website rankings on Google
did not generate any new traffic or leads
some search terms that had barely anyone searching for them
We made the call to redirect (move) them and keep a close eye on the website traffic. At the same time we have been optimising the current content on Just Jeeps as well as creating great reading landing pages. We also looked into a regular blog strategy with new content to keep search engines coming back to the website. The trust of this content has been built on by offsite optimisations all at a 40% reduction in monthly SEO spend.
The results
Constant increases in traffic monthly: It has been just under 6 months we have been working on our SEO strategy for Just Jeeps and since starting we have seen a positive trend in SEO (organic) traffic as well as increased conversions (website enquries).

Not only increased traffic, but also user engagement from our SEO efforts: Traffic has increased by over 100% across SEO search as well as large increases in user engagement rates.

SEO traffic from Google generates most enquiries: 47.42% of all website enquries have been generated by SEO (organic) search, which is the best performing channel in generating enquiries through the website. This is simply because of a well optimised onsite SEO campaign based around search intent.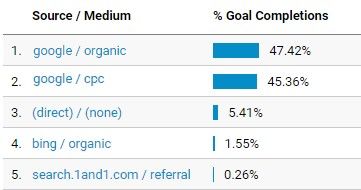 If your current SEO campaign is managed elsewhere, or you are wanting a free SEO strategy session please contact our SEO experts at Havealook today.